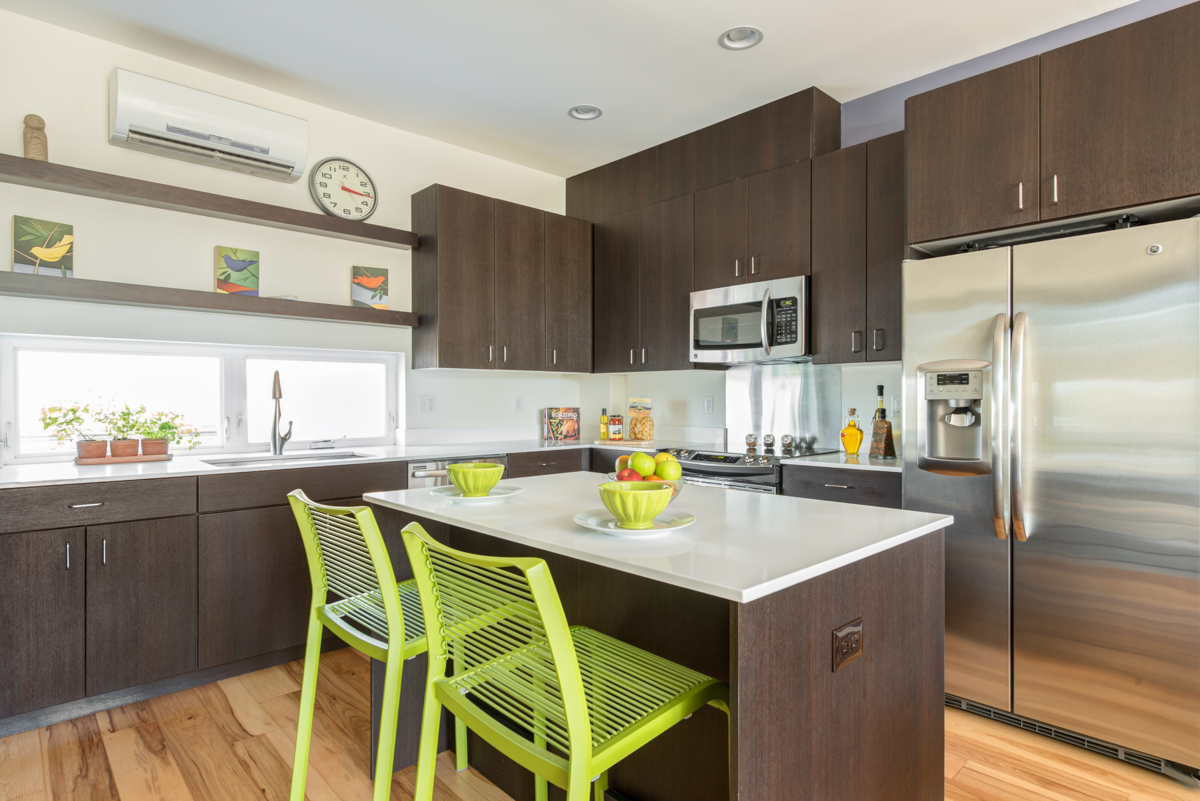 Luckily for our environment and our children, the concept of green living and the importance of sustainability have become increasingly mainstream.
While not everyone has adopted energy-efficient practices, the trend has been leaning in that direction for many years. For instance, in 2015, there was a reported $34 billion utility bill savings for American businesses and families.
With all the ecofriendly advancements in home products and materials, it's easy to go green. Especially in the biggest energy-draining room in your home – the kitchen. Making energy-efficient upgrades will increase the value of your home while saving you money, improving your family's health, helping the environment and increasing your home's overall worth. Here are some ideas:
Put Your Refrigerator on an Energy Diet
Did you know your refrigerator consumes the most energy next to HVAC equipment? That is, unless you are using one that has received the EPA's Energy Star rating. These models will save you $270 over 5 years, and "eat" 9% less energy than those with minimal energy-efficiency ratings. Read the yellow stickers to compare models and energy savings.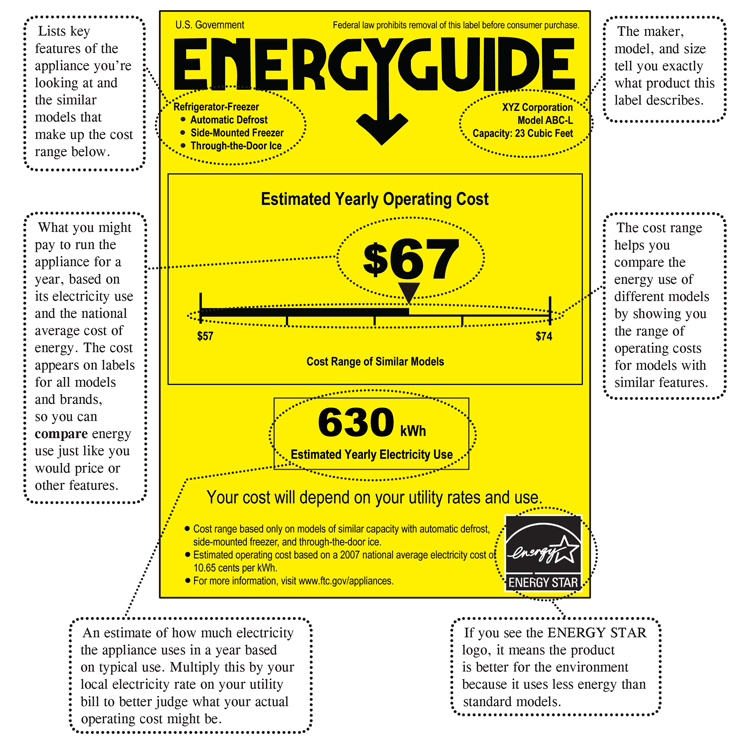 Embrace Induction Ranges
Induction ranges transfer heat directly to metal pots and pans through electromagnetic induction. This allows them to use less energy, be more responsive and heat much faster than gas or electric models. In fact, induction ranges receive a 90% efficiency rating as opposed to electric (55%) and gas (50%).
Another benefit to induction ranges is their accuracy. Because they offer fast, precise heat, they are a favorite among professional restaurant chefs. They get bonus points for not burning little hands and paws on the stovetop. Unless you are wearing a ferrous metal ring, your hands or paws won't be burned even with the electric element on a high setting.
Maintain your indoor air quality with no indoor pollution. Any fossil fuel (propane and natural gas) when burned releases PAHs in the home. Why introduce those harmful chemicals just to heat a kettle of water? Electric ranges don't have this problem or the risk of a gas explosion.
Many people may think induction-ready pots and pans will be hard to find. Not so! Cookware now comes "induction ready", which basically means it is made of magnetic material, usually iron or stainless steel. You may even be able to use some of your existing cookware. You can perform a test to see.
Faucets
Improvements in faucet technology allow you to use less water without even realizing it. You'll use less water if your faucet mixes air into the outflow through an aerator. These are often available through local utilities. Or try one of the many low-flow faucets available. A recirculation pump might make sense. It keeps your tap water hot so you don't have to run the water waiting for it to heat up.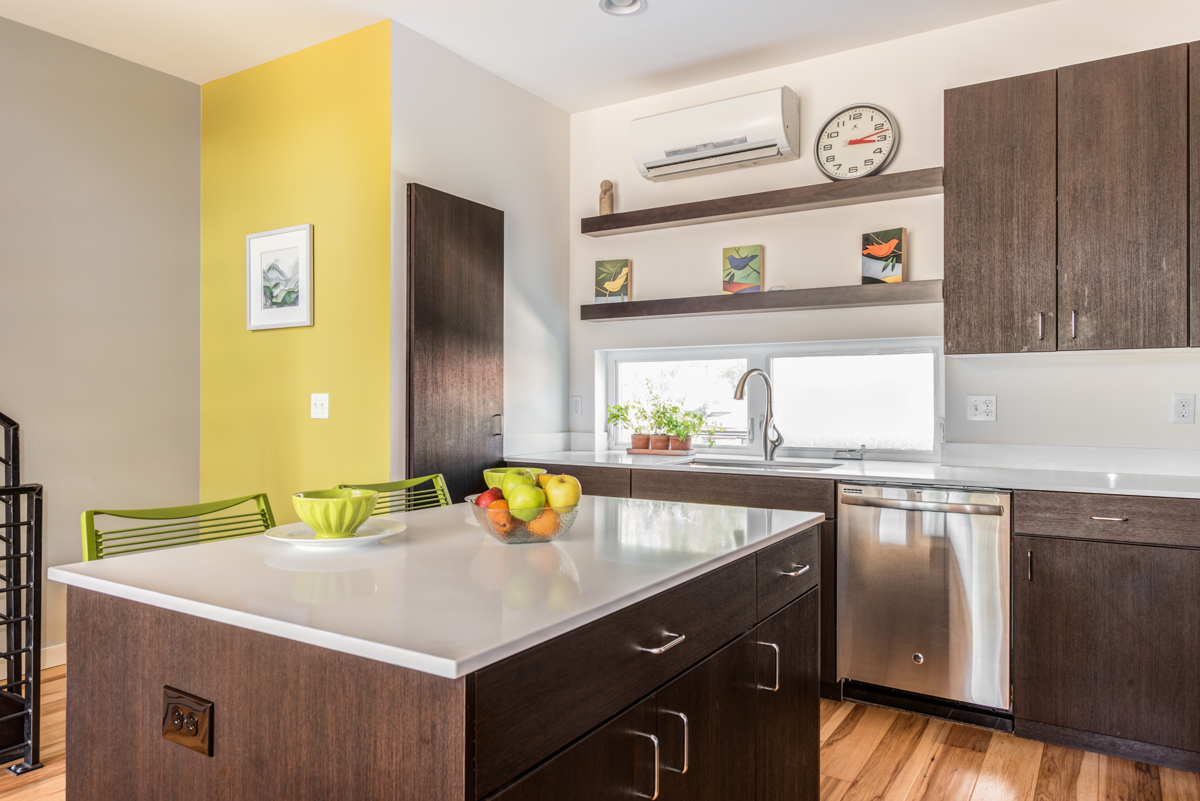 Greywater Systems
Greywater is gently used wasted water that normally would go into the sewer. Although it may have a greyish, or slightly dirty look, it is quite safe to be recycled to irrigate your garden, lawn, landscaping, and more. A kitchen with a greywater system will not only save you money, but will most definitely add value to your home.
Consider the Countertops

Granite countertops became popular in the '80s and '90s and are now even more affordable as many stone products presently come from China. Why carve up mountains millions of years old, ship pieces them thousands of miles just to live in your kitchen for a couple of decades before they end up in another landfill? Granite and marble also have inherent imperfections, are porous and require mild to intensive care.
Other products locally sourced are great options. Paperstone, terrazzo and composite quartz are just a few. More modern products require very little maintenance, can be more durable and come in more choices of color and finish.
It's Easy Being Green!
Now it's easier than ever to increase the value of your kitchen – whether you want to improve your quality of life and help the environment or make your home more valuable for resale.These are all good reasons to green it up!
As a value-added service I consult with my clients with possible strategies for increased home value while saving energy and enjoying lower utility bills. You can email me at GreenUpgrades@kim-mulligan.com