Women are buying homes, in fact more women buy homes than men, second only to married couples. Girls are gaining and acquiring ground, we are the driving force in most home purchase decisions.
Single women make up 18% of home purchasers (other studies peg it at 21%). Single men acquire 11% of home purchases and married couples top the list at 54%. Women are often the driving force in married couples buying homes. Often they are the ones searching the web and pulling together the needed financials for the loan officers.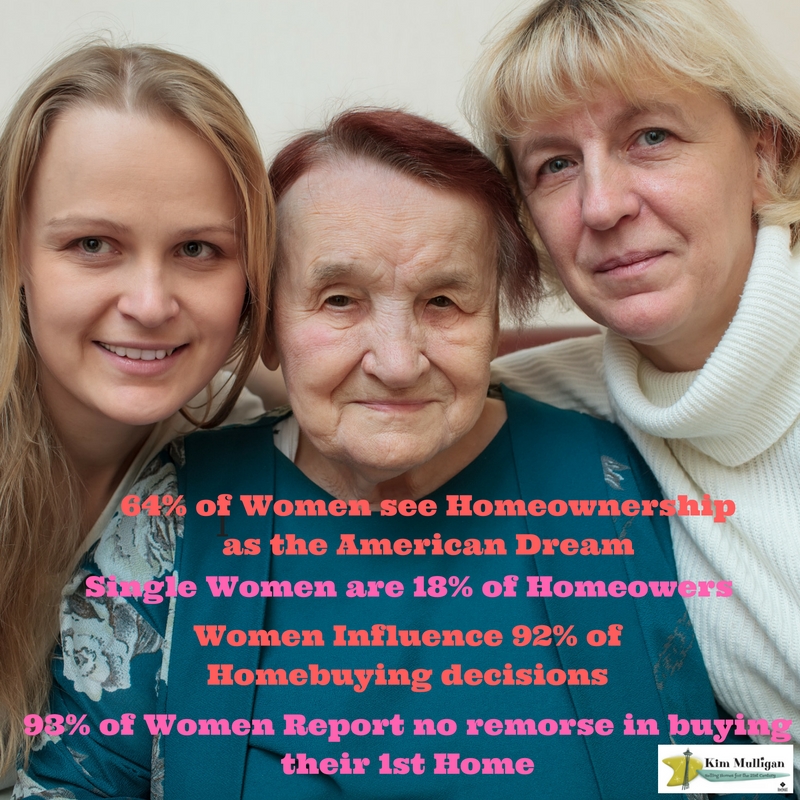 There are many reasons for this shift. More women are in the work force. Others want a stable environment as single parents so they want to be near good schools and be part of a community. Yet still others want to have pets, a garden to tend, their own finishes and decor at home. Some get tired of moving to the next apartment and want a place to express their own personality. Still other see a home, and rightly so, as a tax shelter and a great investment opportunity.
With the recent ramp up in hiring in the Seattle area, our city is seeing previously blighted areas changing rapidly. Some women see the upside potential in buying a fixer or an estate property. Most buyers of both sexes in our market prefer the turnkey home; That is one that has been remodeled within the last 3 years or so with the latest finishes and color palettes. For the last two years, many homeowners have found their homes to appreciate so quickly they can already move up to a more expensive home.
With local Tool Lending Libraries, and other homeowner repair classes, the idea of being a home owner and swinging a hammer seems to less intimidating to some. One can't ignore the piece of mind that comes with knowing something about how the building systems works in one's home in case something goes wrong at 3am in the morning and knowing where the main water shut off is located.
It's curious while many corporations have caught on to a woman's buying power in the home, the real estate industry still lags behind in seeing women aTHE major driving force in home ownership. (The reasons why are a whole 'nother blog post!)
Not enough effort is made to appealing to what women want in a home as a group:
Low maintenance, easy to clean
Healthy indoor air quality
Comfortable even temperature with good ventilation
Energy and resource savings
Walkable, accessible community, good schools
Eco-friendly and well-built
Good resale potential
The above criteria is often all found in a home with a green certification.
As a REALTOR Green, I can attest the interest in so called "Green Homes" is often sparked by a woman. Men learn the features listed above are great to have, but most often women are thinking of the health and financial savings of living in an efficiently designed home that allows for vitality through all the stages of their lives.
Sisters are doin' it for themselves. Rightly so. Please contact me if you would like me to help.
Source: NAR