It's not news to anyone the Seattle Real Estate Market is considered red hot right now. I often find first-time home buyers don't know how fast the sales process really moves. As a Seattle area Realtor and a long time Real Estate Investor I know the websites that are so popular now (you can add the usual ones here) don't tell the whole story. It's the classic data versus information juxtaposition. Data doesn't arm one with all the information. Case in point, this infographic contains the latest compilation of data: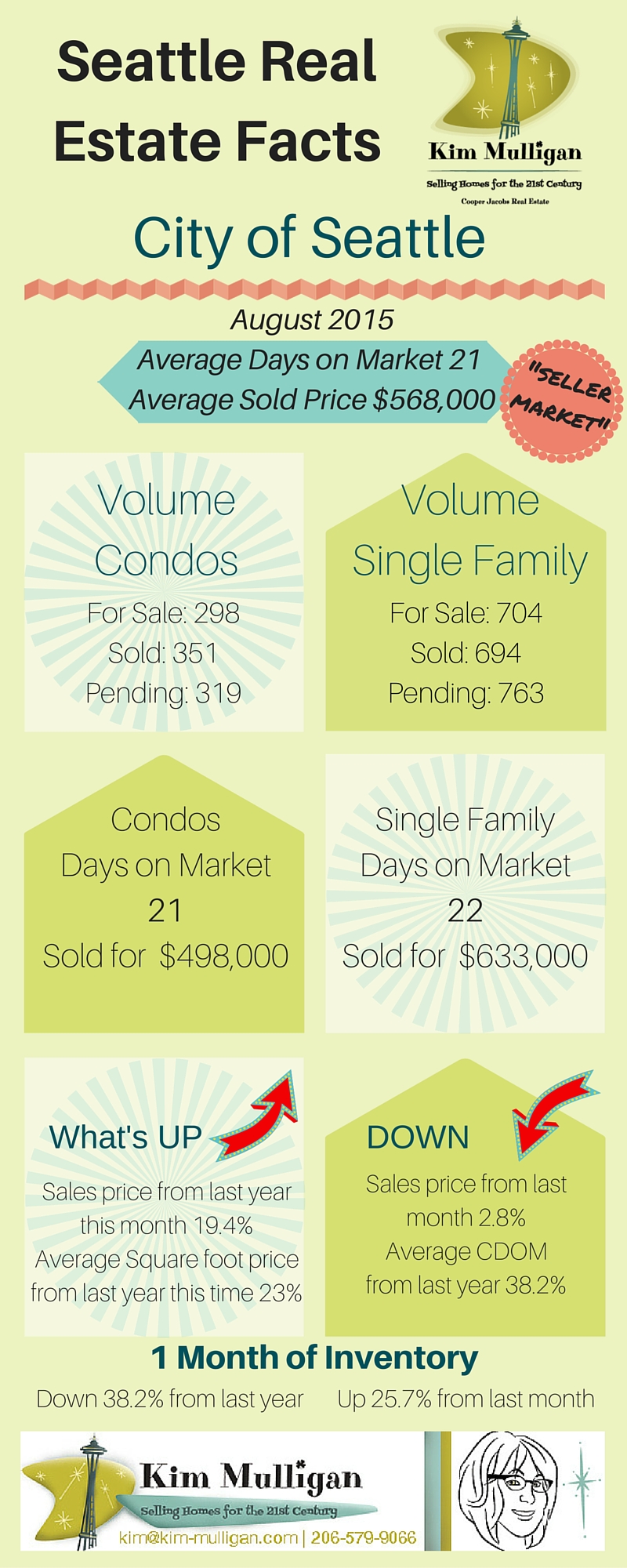 The infographic above mentions days on market (DOM) and it's very misleading (even though I created it). The number is correct from the Data published from a reliable source that supplies many multiple internet sites. Buyers can think they might have an average of three weeks to make an offer on their dream home. OK maybe if it's the type of home everyone wants, maybe a week? Wrong. What these numbers don't show is the actual decision time to purchase a home is actually much shorter than the Days On Market stated for the following reasons:
This number includes the time the seller and the buyer are negotiating the terms of the contract, which sometimes can run several days or more while this is happening, they often aren't looking at newer offers that trickle in.
There can be a time lag from when the mutual acceptance was reached and the listing is changed on the NWMLS, sometimes by as long as 5 days.
Many listings (perhaps one half) are holding offers by a week or so, sometimes more. This gives the sellers more opportunity to have more potential buyers see it, for out of town buyers to fly into town to view it, and often creates a bidding war. On emotionally appealing homes, the price can escalate much, much higher than the listing price, which might be artificially low to garner as much interest as possible.
Many sellers ask for, or many buyers will include a pre-inspection. This means most often the individual buyers will pay for an inspection before an offer is made to the seller. I have been to scheduled open houses where 3 inspectors are doing their inspections all at the same time, while there are 15 buyers tip-toeing around trying view the home. (When I list a home, I make sure this less than desirable situation won't happen on your listing when it's time to sell).
During these lag times, some agents will hold open houses to try and gather back up offers, or to prospect for new buyers as clients. Most people assume if there is an open house, there isn't a contract in force, this assumption can be incorrect.
On the other hand, selling agents are required by law to bring an offer to sellers even if it is before the published date on the MLS for the end of the viewing period (holding offers). Savvy investors know this and will often bring in a cash offer well above the asking price to bump everyone else out of the competition. In a sense, the other circling buyers don't even know what hit them when the house is sold out from under them.
So what's a buyer to do? Work with an established Realtor that is fully aware of these scenarios and other less common ones. The Seattle Real Estate market is more than a little crazy right now, but a hard working Realtor that doesn't mind getting creative can really make the difference in getting your dream home, before someone else does! I'm here to help.
For more information email:
Seattlehomebuyer@kim-mulligan.com