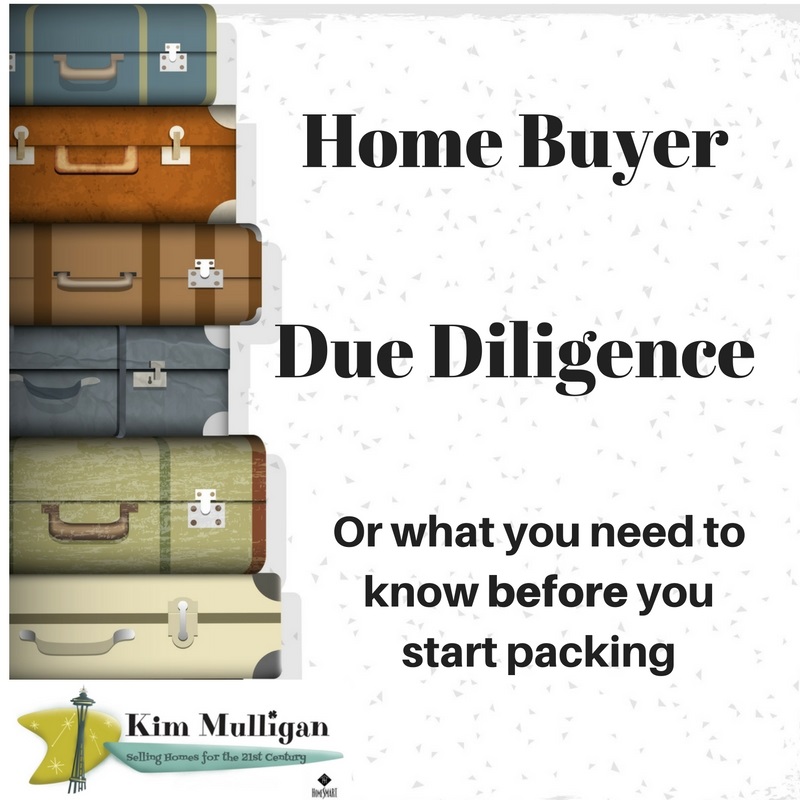 Being a home buyer can be a very time-consuming project. Many first-time home buyers don't know about a responsibility known as due diligence. In Seattle's fast moving market the timeline for the research can be just a couple of days. Much of the due diligence should be performed before or during the Inspection Period, also known as a neighborhood review. If you are targeting a specific neighborhood or building, some of your investigation can be completed before you make your offer on a property.
When Purchasing a home, while your team might be comprised of a Loan Officer, Realtor, Title and Escrow companies and others, ultimately it is up to the buyer to investigate a property to their satisfaction. Each purchase may require different trails to pursue as part of your due diligence, and your professionals can suggest areas to research, but ultimately it is up to the purchaser to dig into the research. Indeed the new homebuyer might learn more about aspects of the property than the current owner may be aware of. As much as a Buyers Agent might want to help, their hands are tied, they don't have the duty to investigate, in fact they shouldn't (more about this later).
So what should you research? Here are some aspects to consider:
Structure — this is included in a traditional home inspection. Sometimes a pest inspection is warranted. You home inspector can suggest areas to investigate. An inspection is a great way to have a "owners manual" of a home. It's an opportunity to learn about upcoming maintenance requirements and recommendations. Even if you are familiar with construction techniques, it helps to have a second set of eyes on a property for investigation. Increasingly buyers are asking for ways to make their homes healthy and more energy efficient. So finding someone to give you ideas on possible projects towards this goal is something I can help you with.
Systems — you might want to research certain elements further. Electrical, plumbing (including sewer or septic), windows, HVAC, roofing and any other systems unique to the property might be at the end of their useful lives or could be optimized with a small tweak. A structural inspection can indicate systems that should be investigated by a systems specialist.
Neighborhood — knock on doors and meet the neighbors, this is an important step many people skip. You want to know who is next door to you and about any local issues. It's a good idea to visit the property at all times of day and night and weekends. What are the noise levels like? Is there street parking? Who is on the street at night? What is the ratio of rentals to homeowners in the building? …are just some concerns to research.
Crime — find out who your local beat cop is. Attempt to speak with that person about the general neighborhood and if their are any "problem" addresses nearby. There are car prowls all over the Seattle area, so that's a given . . . . .sorry.
Schools — check out Great Schools and other online sources. Visit the campus to get a feel of the local school, what other after-school resources are nearby?
Zoning — Seattle neighborhoods are going through growing pains. Are you on a main arterial, or on the block behind one? Is there is a good chance your 360 degree view will be blocked in the future? What you see on the street could be very different in 5 years. Investigate on websites like this one and the City of Seattle or local DPD department. Ask the neighbors and small business owners what is happening nearby and if there are changes coming down the pipeline with zoning regulations.
Insurance — your lender will require hazard insurance. Will there be a problem finding a policy for your property? Items such as knob and tube wiring and fuse boxes can be difficult to insure. Do you need flood insurance? How much is the earthquake insurance policy?
Taxes, Liens and Assessments — are there documents attached to the property that you should be aware of? Even if a Title company will insure the property, there could be other restrictions on the use and disposition of the property that can affect your enjoyment and wallet. Make sure these are acceptable with the loan you want to utilize. Is the property used for income or a business? You may need to procure a commercial loan instead of a residential one. Or the previous business might be flying under the regulartory wire or be grandfathered in, you may not be able to operate the same business there again.
Environmental — what was the property previously used for? Does the fire department have an oil tank decommission permit on file? Is there still a tank on the property hidden in the ground? Is part of the property considered a wetland, or are there other overlays on the property? These are common concerns in the Seattle market.
Transportation and Recreation — Bus routes, light rail, coffee shops and parks. How will you be spending your time outside of your home, is walkability important to you? Is it important for you to have a "third-place" space nearby off site of your property?
This is a short list of what you should consider when purchasing a home. While it's tempting to start choosing paint chips, these are the items and concerns that can impact your daily life and your investment much more than a window covering choice. So before you see yourself living in the interior space, put a check on your excitement and look into all the aspects what is likely to be the biggest investment in your life. This is a home buyer's due diligence.
Can you afford the needed repairs and alterations, do you have the time and energy required? Can you see yourself living there for a length of time? Even a teardown home can be a great investment, so problems in the structure or systems may not be a bad investment. What is the upside of your target property? You can fix your building systems, you can start a block watch and strengthen neighborhood ties and relationships, you can get involved with your community council or condo board and help fix local problems. The point is to buy your home with your eyes wide open. There will be surprises along the way, but in doing your due diligence before your contingencies are dropped from your purchase and sale contract, you will be a more confident buyer and encounter fewer surprises on move-in day and into the future.
As a real estate professional, as much as I want to help, I ultimately will to point my buyers in some different directions they may not have thought of on their own, and then I have to step back. By law ,it is their decision to form their own opinions. It is my duty to perform the real estate transaction as they wish.
In short when you are ready to buy a home, be sure and have some time to investigate the purchase. It will allow for peace of mind and for a fully informed purchasing decision.
Please feel free to contact me with any questions. I love sharing what I enjoy about living in the greater Seattle area.